The Use of a Switch is the second level of VIP1-WORLD1. The name suggests that the level teaches the player a few different ways of using a p-switch.
The level starts out with a bunch of enemies and slopes in Boon's way. A little bit after the midway point, you'll find a hill with some bomb-ombs and some blocks; one of the blocks has a vine that leads to a secret 1-up. Eventually you should also find a p-switch; the idea is you press it and it shows you the various things you can use it for, including:
Allowing access to loot, as shown with the 4th VIP coin
Creates platforms for travel, as shown by the bridge made above the Spinies
Turns blocks into coins for collection, as shown above the bridge
After that, there's some pipes, a staircase structure with more Koopas, and a series of holes and pillars that lead to the goal.
Secret Exit
Edit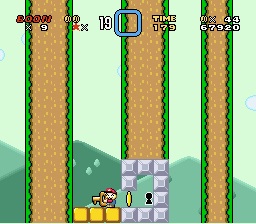 Nearby the 1st VIP coin, you should see a couple of blocks that form a staircase. if you jump above them, you will find invisible blocks that lead to a key. Grab the key, as well the P-switch (double-grabbing will help). The hole that the last VIP Coin is above has the a keyhole at the bottom. Remove some of the coins so you don't get blocked off, hit the switch, and dive into the hole.
VIP Coins
Edit
On the side of a cliff, guarded by a bunch of Koopas
On a sloped platform after the first couple note blocks
Next to a slanted pipe, guarded by a disco shell
Encased in a rectangle of blocks, where you find the p-switch. use the p-switch to uncover it
Above a pit, guarded by a paratroopa. Bounce off the paratroopa to collect it
Ad blocker interference detected!
Wikia is a free-to-use site that makes money from advertising. We have a modified experience for viewers using ad blockers

Wikia is not accessible if you've made further modifications. Remove the custom ad blocker rule(s) and the page will load as expected.