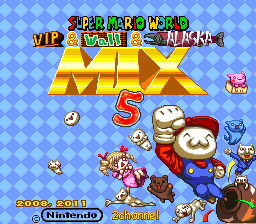 SMW VIP & WALL & ALASKA MIX 5
, or VIP Mario 5 for short, is the fith installment of the japanese collaboration hack series, VIP Mario.
Collaborators
Edit
1PfJGxh2
660
Akatsuki
Anta
beyrevia
Carol
FY61
Homing
IGU
Kaeru
King Nanashi Salmon
Kokunai
Kumo no Naka?
L3Rt
List
Pingu
Pilisa (youngest developer from korea)
SIG
Sui
sym
Tima
TSC
Zero
⧫yubirdvavk (this is just a tripcode, this person didn't input a name)
several anons
There are 84 levels in VIP Mario 5. 9 levels in world 1, 15 levels in world 2, 10 levels in world 3, 12 levels in world 4,
Ad blocker interference detected!
Wikia is a free-to-use site that makes money from advertising. We have a modified experience for viewers using ad blockers

Wikia is not accessible if you've made further modifications. Remove the custom ad blocker rule(s) and the page will load as expected.